If you haven't already done so, please watch the video below which gives an overview of the Remote Consultation area on FourteenFish, including how video calls work...
Step 1: Check you have a good internet connection on your mobile phone
Since you are going to be doing a video call with a patient, you're going to need a reasonably fast and stable internet connection.
Our system is optimised for performing video consultations on a mobile phone or tablet. If you're at work and you can't get a 4G signal, you'll need to get your phone set up on your practice's WiFi network.
Our system is fairly tolerant of variations in network speeds, but at the end of the day there is a lot of data going back-and-forth between you and the patient when you're conducting a video call. As a general guide, if you can have a video call on another platform like WhatsApp, FaceTime, AccuRx etc then you will be able to do one on FourteenFish.
Wi-Fi or 4G will work best. A strong 3G connection may also work, but the video will be slightly lower resolution. For more information see Internet connection requirements for video calls.
If you have a webcam then you can also perform video consultations on your computer. Whilst almost all mobile devices have built in echo cancellation, not all laptops and desktops do. This means the patient might hear an echo on their voice unless you are using headphones. See I'm getting echo or feedback on the video call if this happens, or Device requirements for video calls for more detailed information.
Step 2: Go to the Remote Consultation tool on FourteenFish
First, log into your FourteenFish account.
From your dashboard, on the right hand side you should see the Remote Consultation box. Give it a click to go to the Remote Consultation area.
If you can't see the box then please read the article I can't access the Remote Consultation tool.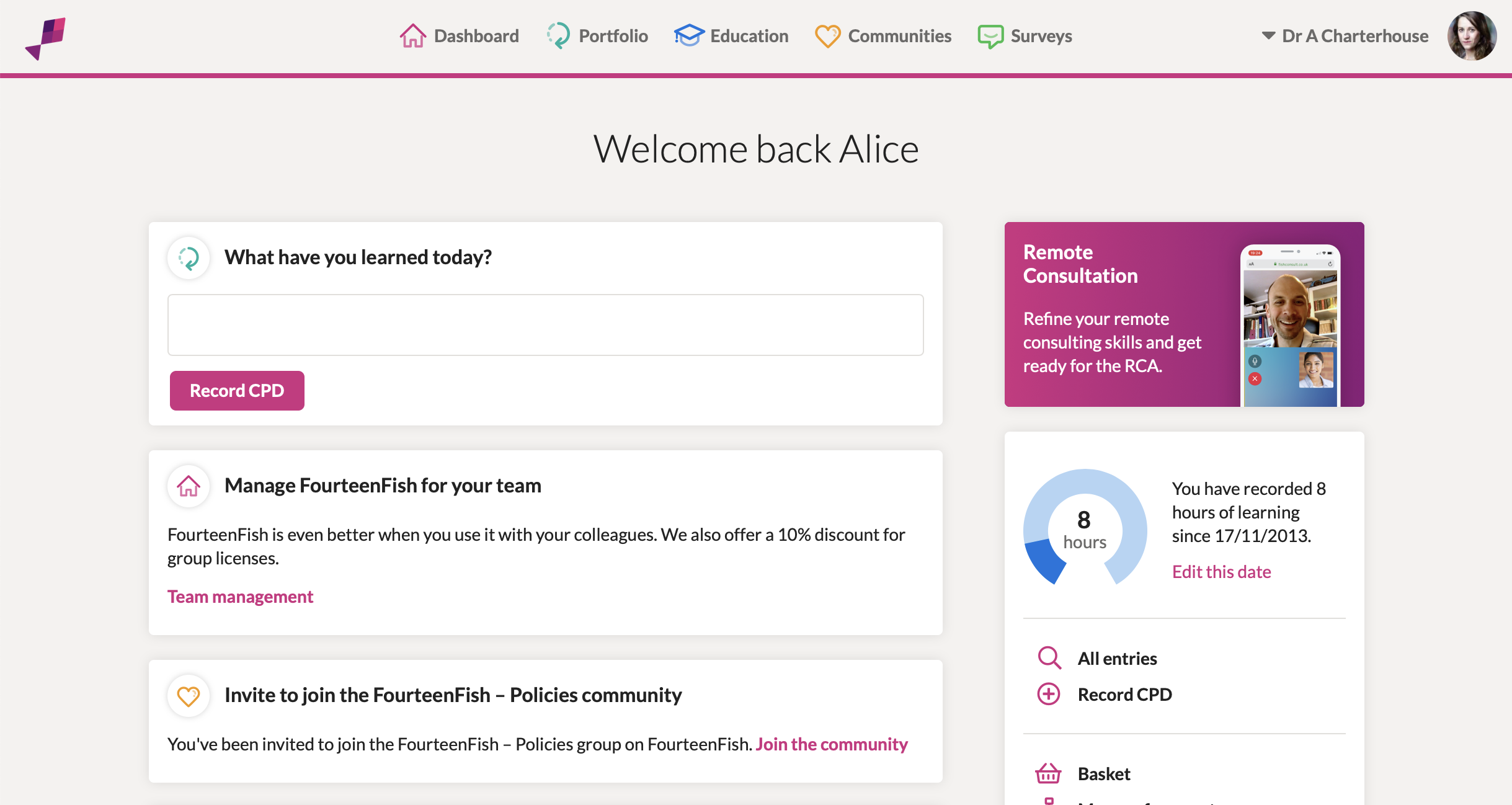 Step 3: Click on "Video call"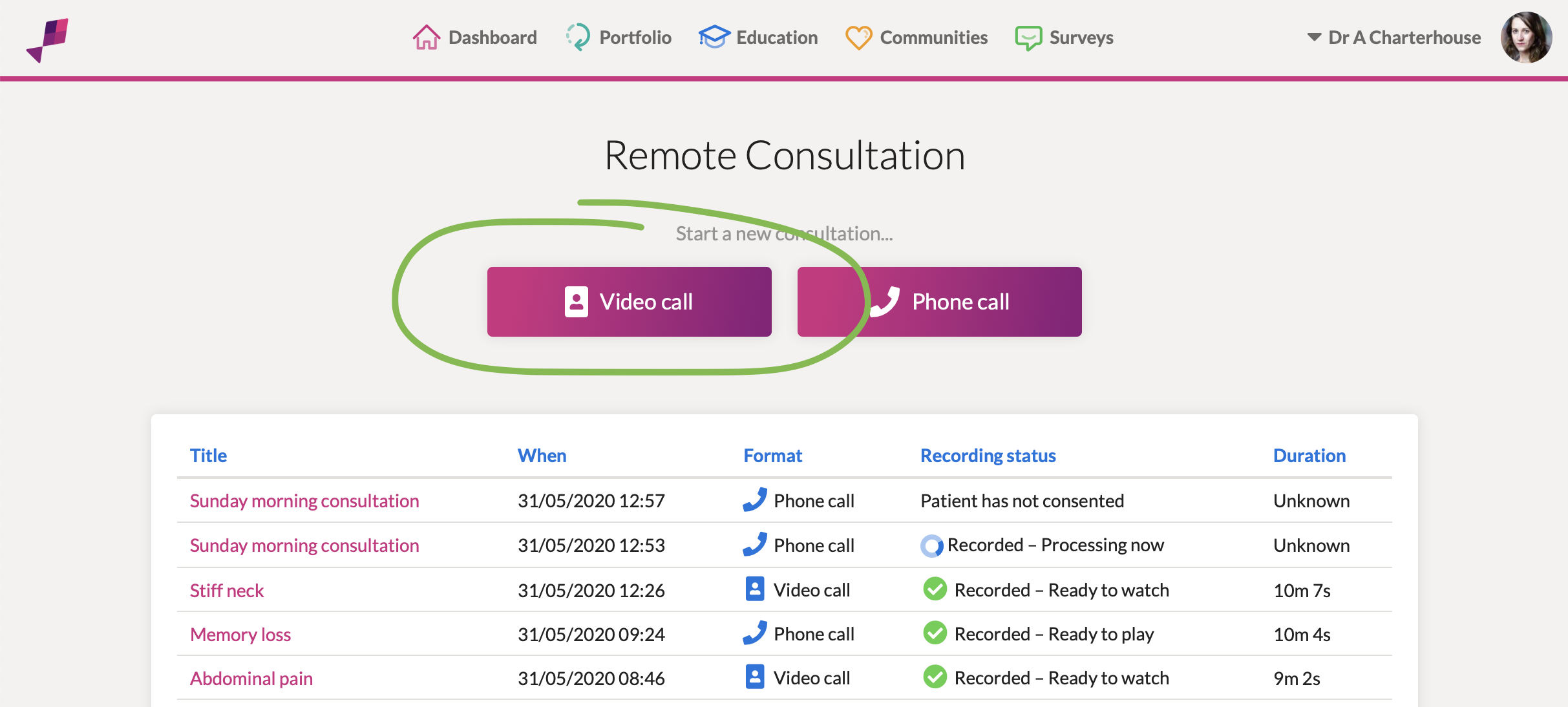 Step 4: Enter the patient's mobile number
💡TIP: If this is your first time using the Remote Consultation tool, have a practice first with a friend or colleague. You can just delete the recording afterwards.
Enter the patient's mobile number in the box. Before you click "Invite patient" you can see a preview of the message that will be sent to the patient.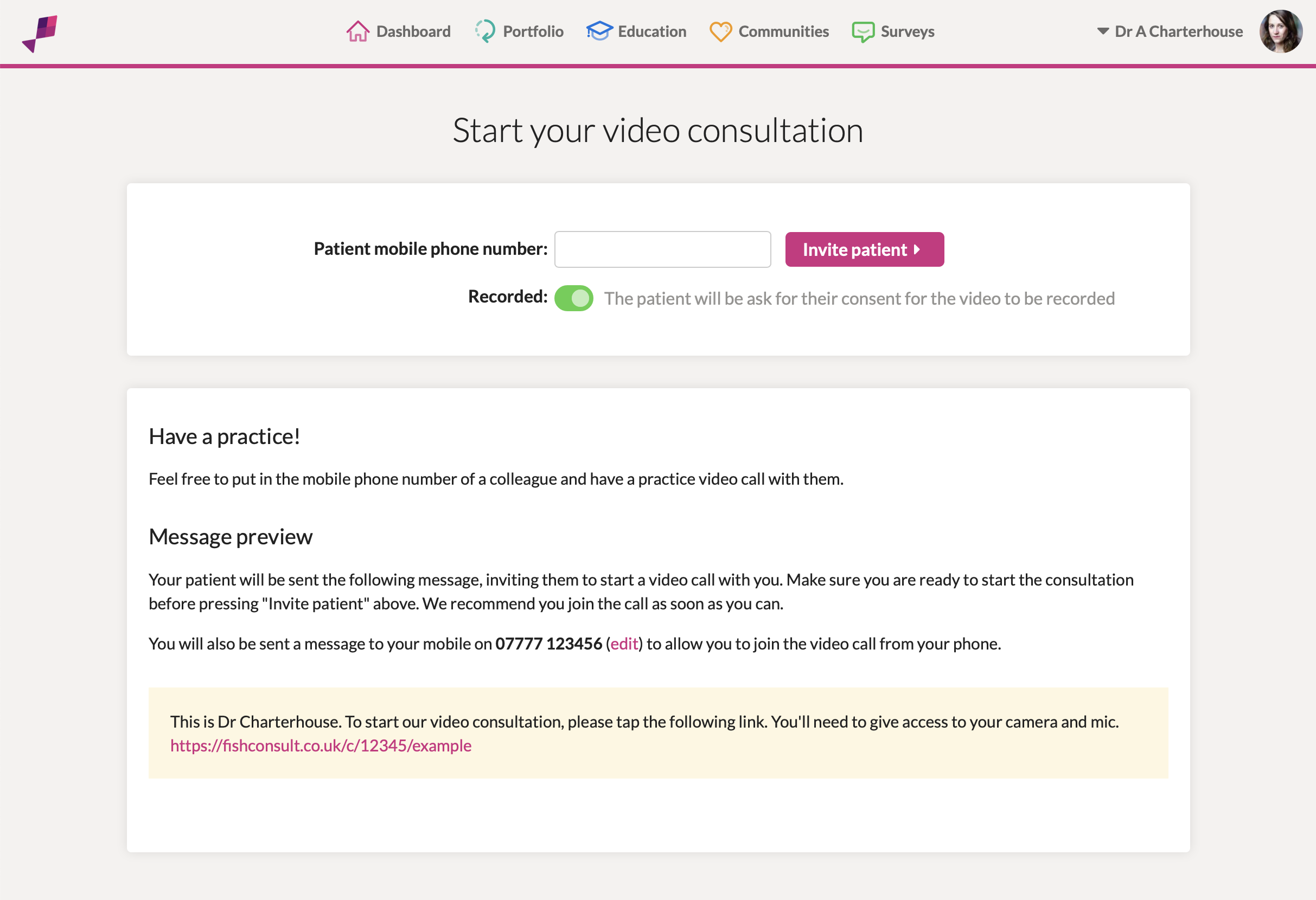 October 2020 update: The text message will now include your name and your practice. This information is pulled from what's entered in the My Account screen.
The patient will receive a text message including a link inviting them to join the call.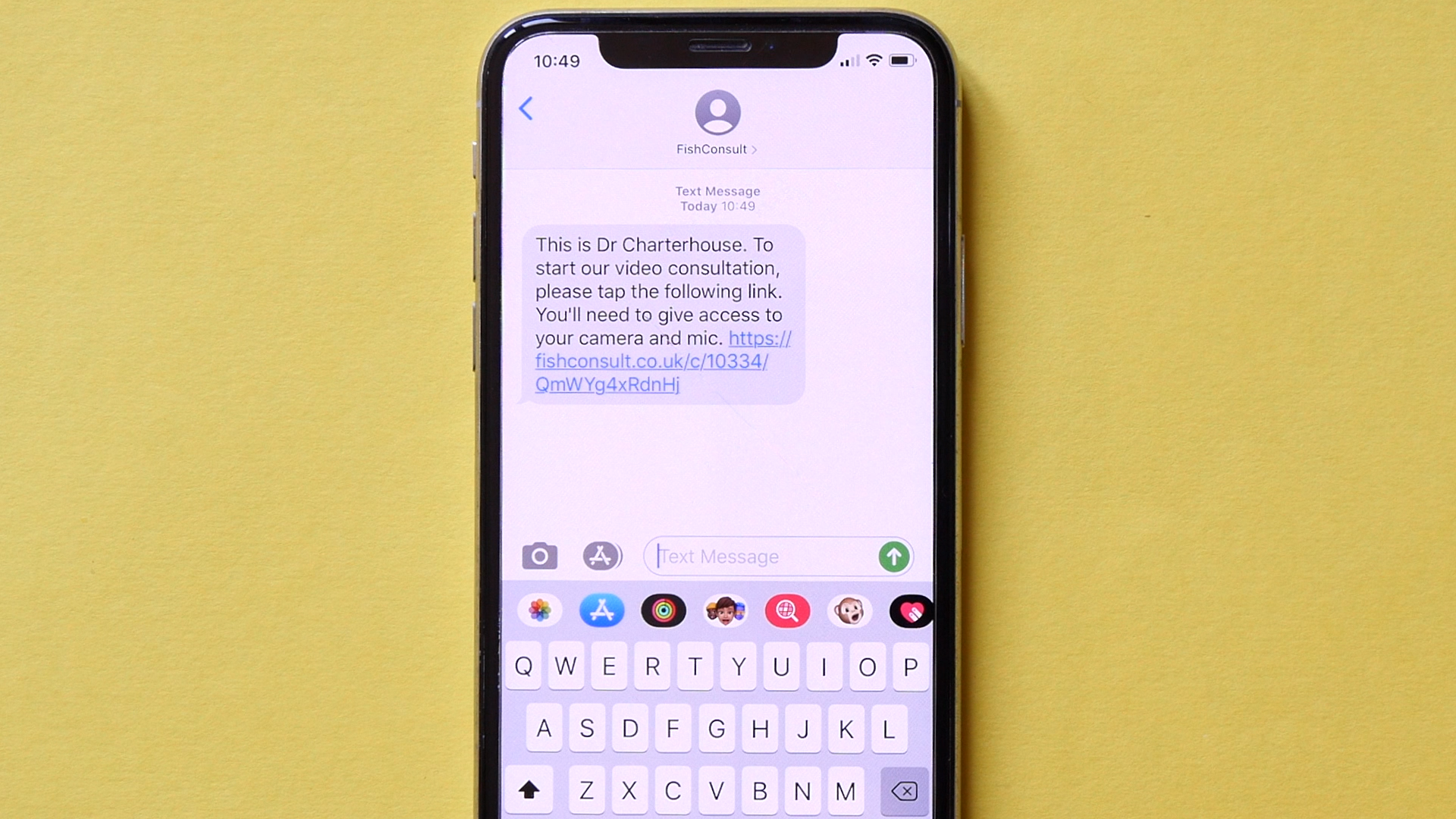 Unlike some video systems like Skype and Zoom, the patient does not need to download an app and the call will just happen in their phone's web browser.
Once they have clicked the link they will then be asked for their consent for the consultation to be recorded.
If the patient chooses "I do not agree" then the consultation will not be recorded, but it will still continue as normal. After the consultation has finished, you will be able to see if they gave consent or not.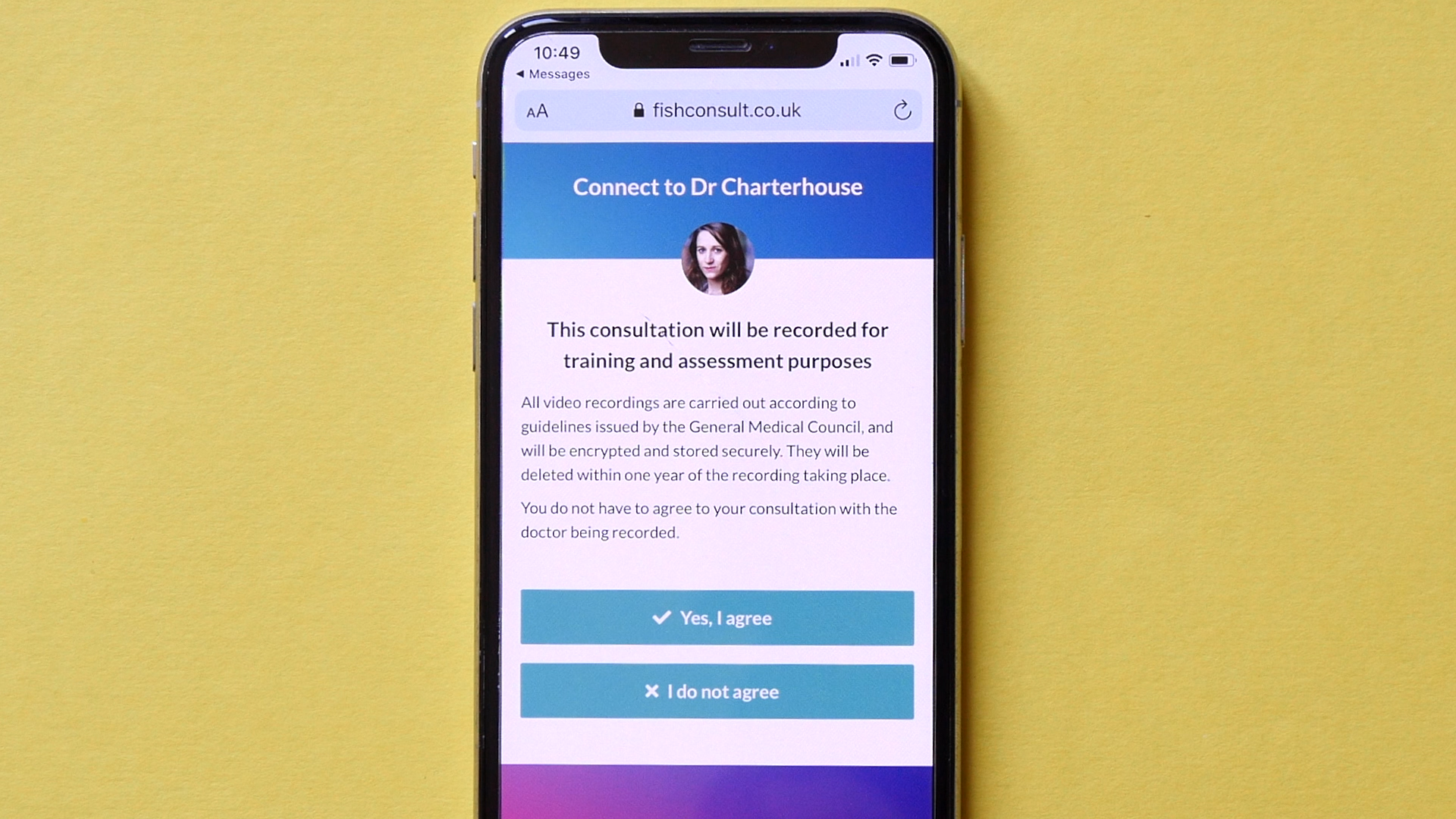 The patient will be asked to give permission for our system to access their microphone and camera.
On Apple devices, this happens each time for every video call. On Android devices, this will only happen the first time you do a video call with the patient.
A text message will also be sent to your mobile phone, again containing a link to join the call. Like the patient, you will also need to give permission to access your microphone and camera.
Step 5: Conduct the consultation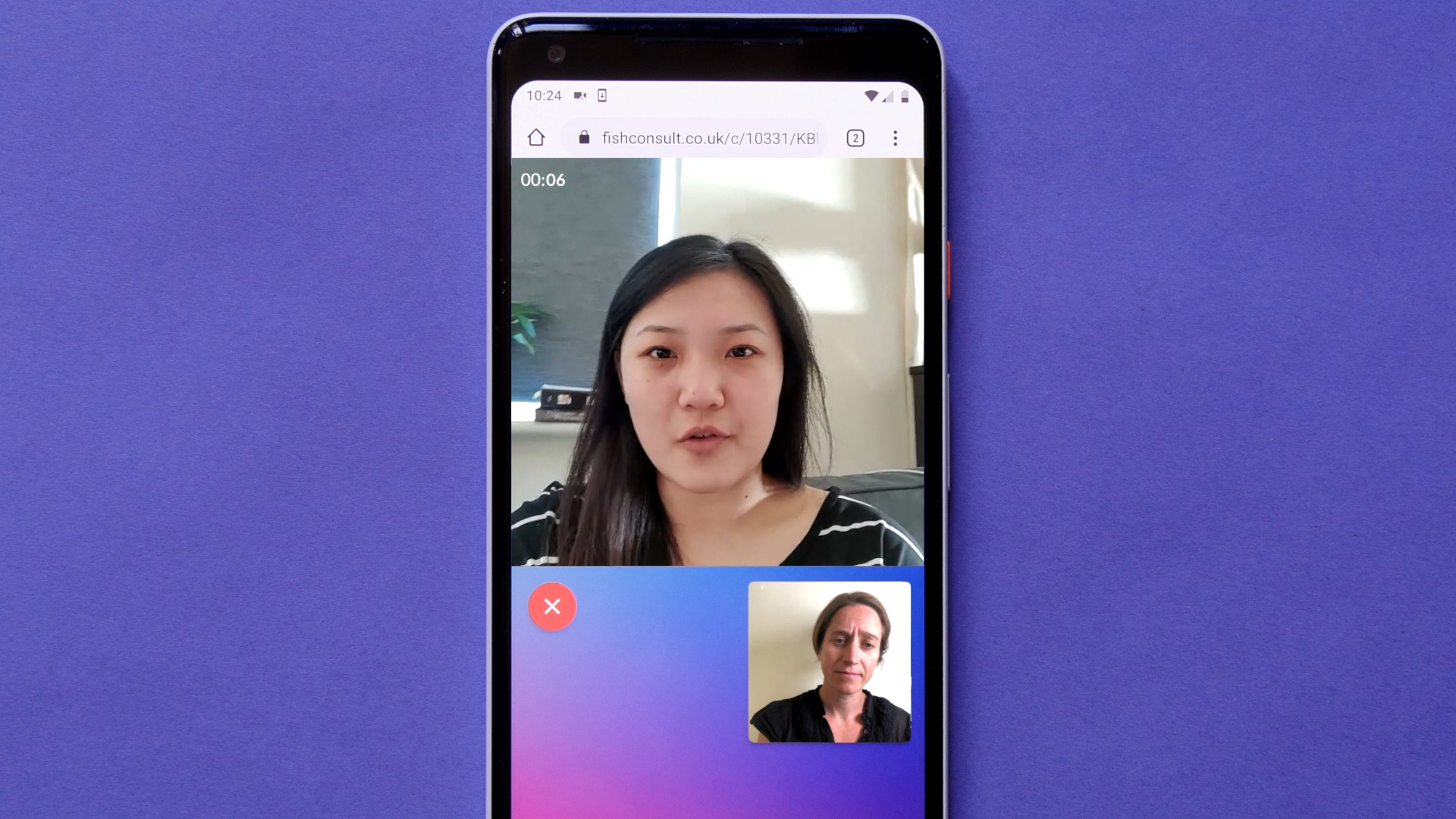 Conduct the consultation as you normally would. The approximate elapsed time of the call will be displayed so you can easily keep an eye on it.
If the patient has consented, the recording will start once the doctor connects.
While the examiners may impose a time limit on consultations, you don't need to worry if it takes a while for the patient to connect since this they will take this into account. See How long can my recorded consultations be? for more details.
Step 5: Finish the consultation
To end the consultation, tap the red button with a cross in. On your computer you will then be taken to the Workbook page to fill in some details.
The patient can leave and re-join the video call, but as soon as you leave the video call the consultation will finish.
Step 6: Complete the Workbook
If the patient did not consent to recording then you'll be informed of this. You will only be asked to fill in the Workbook if the consultation was recorded.
Give the case a short title, keeping in mind this will potentially be seen by your supervisor and the examiners as well as yourself.
Fill in the other details of the workbook, including a sentence to give an overview of the case.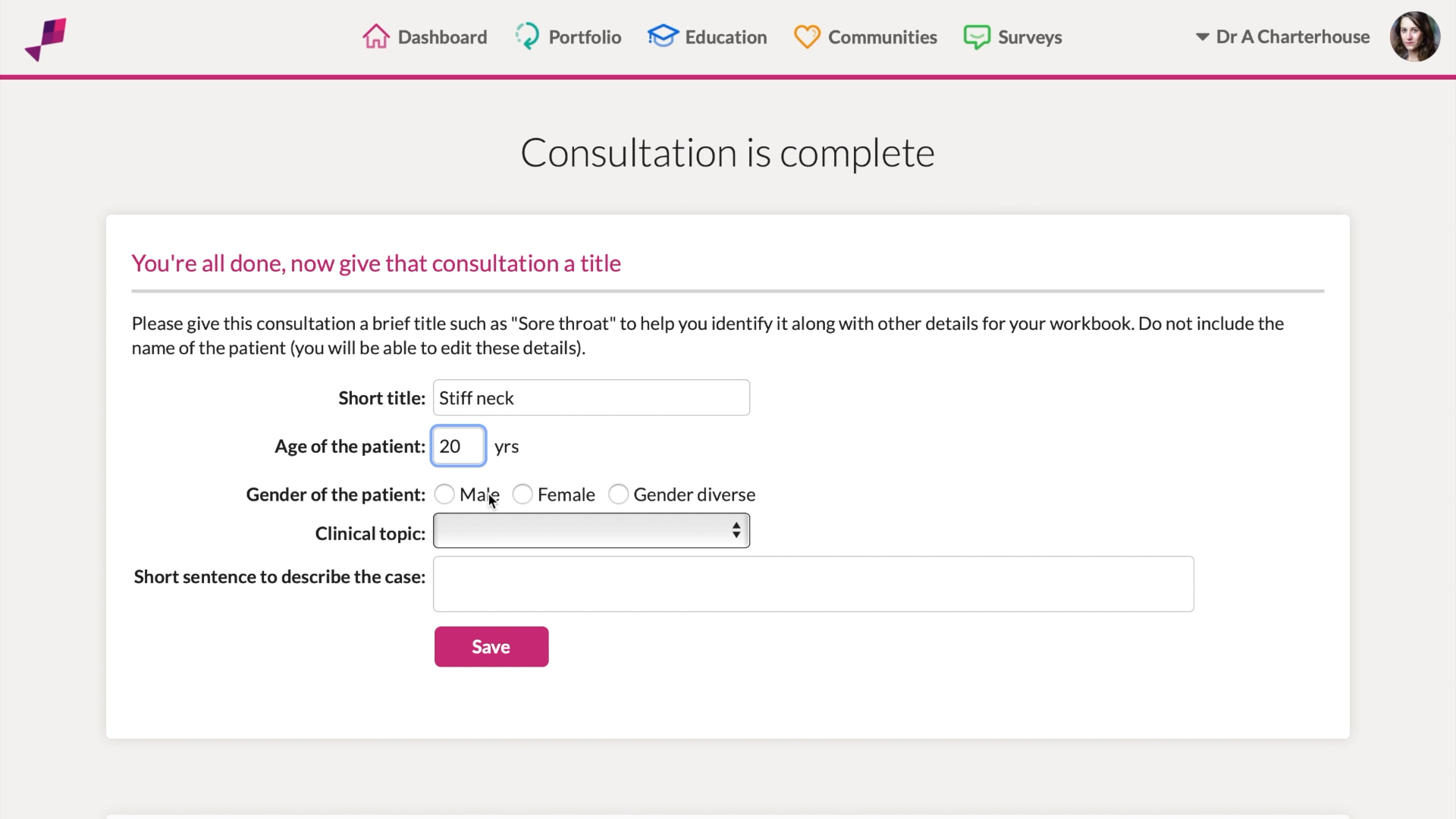 And you're done
You can now get on with the rest of your day.

If the consultation was recorded, then it will now be queued for processing.
This process can take a while, and if you like you can get an automatic email when it's ready. There is an option below the list of consultations to enable this.
Once the recording has been processed, you can watch it back.
Share your consultation with your supervisor
Get feedback from your supervisor using our neat commenting tool.