We are passionate about improving the quality of appraisal. For us that means giving both appraisees and appraisers the best tools, and providing first class support when they need it.
To set an Appraiser
Click on Portfolio from your Dashboard.
Select Set your Appraiser which can be found on the right hand side of your portfolio page.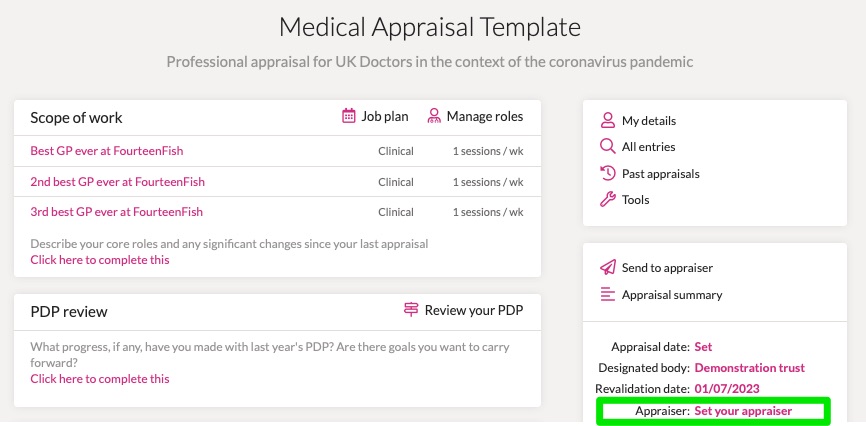 What you see on the next screen will depend on the way your Organisation manages Appraisees and Appraisers.
Dropdown List:
If they use our FFARMS system to allocate Appraisers to Appraisees your Responsible Officer and Designated Body fields will be automatically populated.
You'll see a dropdown list where you can simply click on your Appraiser's name and hit Save these details:
This way of connecting you to your Appraiser relies on your Appraiser having a FourteenFish account and your appraisal team setting your Appraiser up so if your Appraiser does not appear on this list please contact your appraisal team.
Email Invite:
If your Organisation does not use FFAMRS you'll need to invite your Appraiser using their email address.
Type your appraisers email in the box and click Go.

Your Appraiser will then be emailed with an invitation to your Appraisal. If they have already registered with us they will also be notified via their FourteenFish account. When this invitation has been accepted then your Appraisals will be linked.