As well as using our dedicated Consult app, you can also use any other video recording app on your device to record face-to-face consultations, and then upload the file from your device to FourteenFish.
Security considerations
Please keep the following in mind if you are using another app...
With our Consult app, the video files are not playable on your device and can only be played once they are uploaded to FourteenFish.
This is not the case with most other apps, and anyone who gains access to your device (e.g. members of your family) would be able to view the video if you have not yet deleted it.
You should upload the video recording to FourteenFish as soon as possible, and then delete the video file from your device.
Keep in mind that there are sometimes two levels of deletion – make sure you check that the file is permanently deleted (see below).
Uploading your video
Once you've recorded the consultation, open a web browser on your mobile device (Safari on an iPhone / iPad, or Chrome on Android).
Go to www.fourteenfish.com and log into your account. Then scroll down the Dashboard to get to the Recorded Consultation Tool (it will probably be about half way down).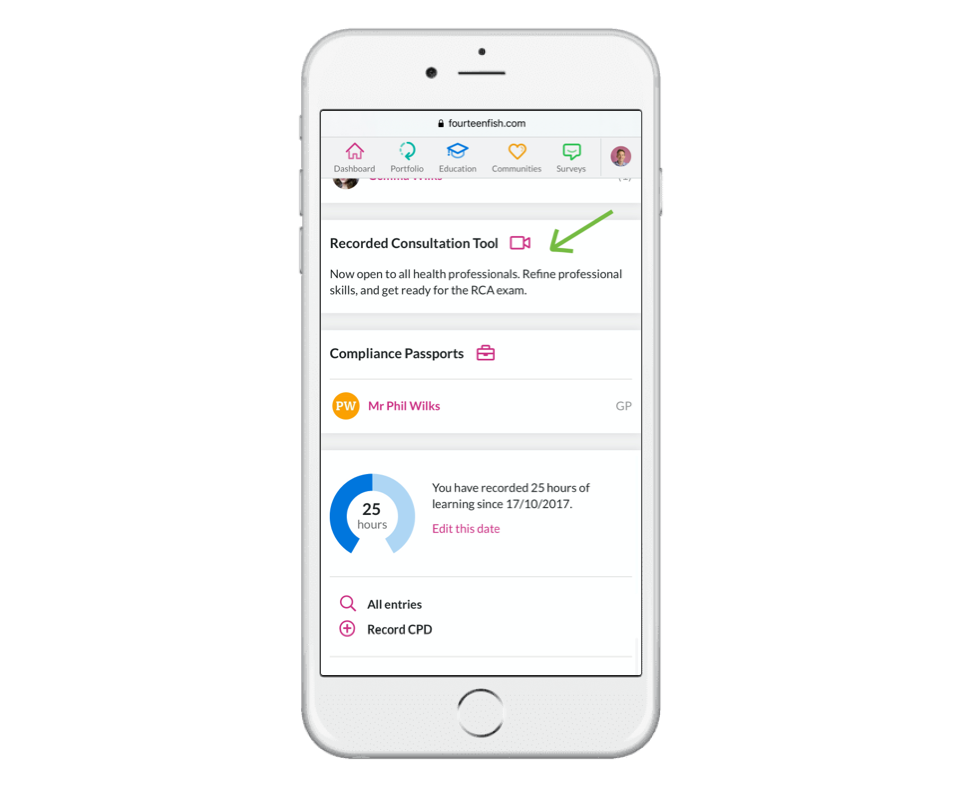 Now tap the Upload button and fill in the workbook just as you would if you were uploading a recording made outside of FourteenFish.
Once you've filled in the workbook, you will be able to select the file from your device. Please leave your browser open while it uploads.
A few minutes after the upload completes, you will then be able to watch the video back on your computer to check that everything has worked.
Deleting the file
As mentioned above, you should upload and delete the file as soon as possible once you have successfully uploaded it to FourteenFish.
You also need to make sure the video is permanently deleted, and not just in a "deleted" area on your device.
Apple devices
To permanently delete a video on an iPad or iPhone, you need to remove the file from the Recently Deleted album. When you delete a photo from this album, you can't get it back, which is a good thing in this case. Here's how to delete a video permanently:
Open Photos and tap the Albums tab
Tap the Recently Deleted album, then tap Select
Tap the photos or videos that you want to delete or tap Delete All
Tap Delete again to confirm
Android devices
The exact process may vary, depending on the version of Android you're on, and the app you've used to record the video. On most devices, your video recordings will be in the Movies folder in the Files app. When you delete the file, you should see a message that this is permanent and can't be undone.
If you use Google Photos, follow these steps to delete a video permanently:
Open the Google Photos app
Select the items you want to delete from your Android phone or tablet
In the top right, tap More and then Delete from device