We would like to reassure you that our Surveys are GMC approved and created in association with Wessex LMCs, as well as being anonymous and peer bench marked in line with GMC guidelines. They are approved for Revalidation. You need 34 responses (the GMC recommended minimum), and once you have these, you can either close the survey if the responses are collected electronically, send paper copies to us by post or scan and upload them to us directly in a single file.
The survey costs £28.
To create a Patient Survey
Log in and click on Surveys in the top toolbar on the Dashboard

Click on Start a new feedback survey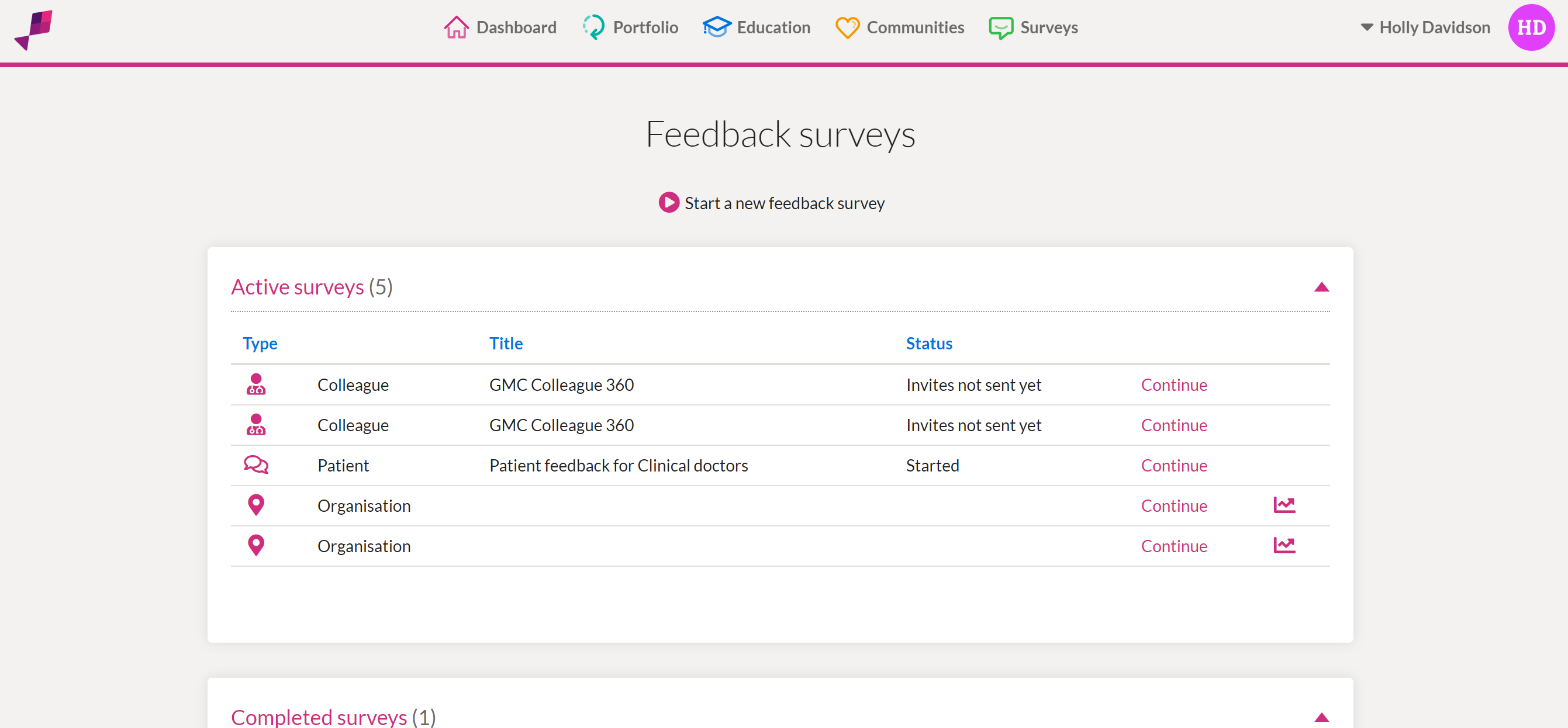 You will then be asked who will be completing the survey. Confirm you are asking Patients to complete the feedback



You can then choose your Patient Feedback type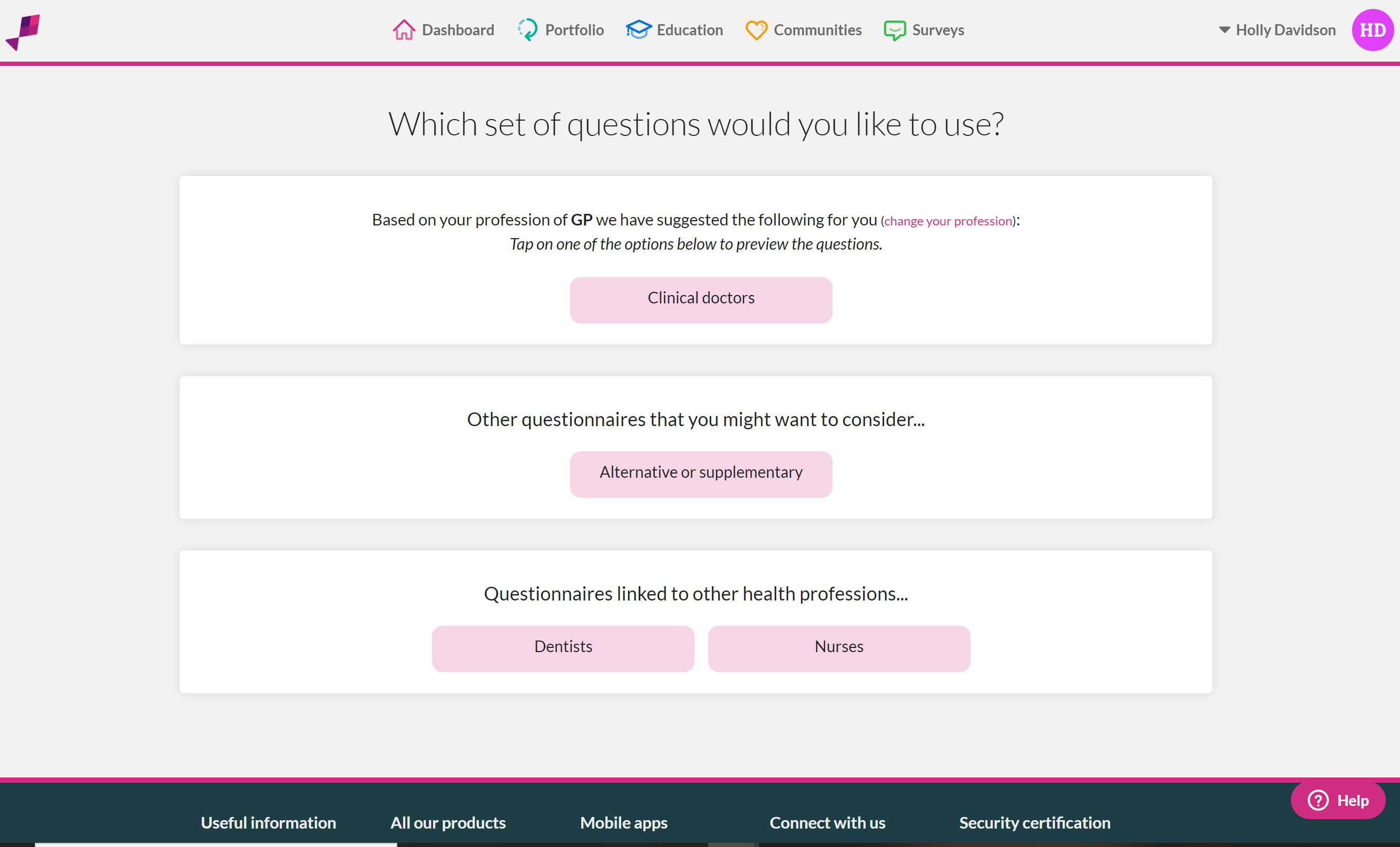 The Patient Feedback options are dictated by the profession you have set on your account, e.g. if you are a nurse, and this is set as the profession within your account, then the option Patient Feedback for Nurses will be available and you can follow the same process through.
Next you will be able to preview the questions, if happy then click Use these questions in the top right hand corner or hit the back arrow on your browser to view the alternative (if available)
Complete the Self Assessment, then click Save at the bottom of the page
You are taken to the Survey Set up page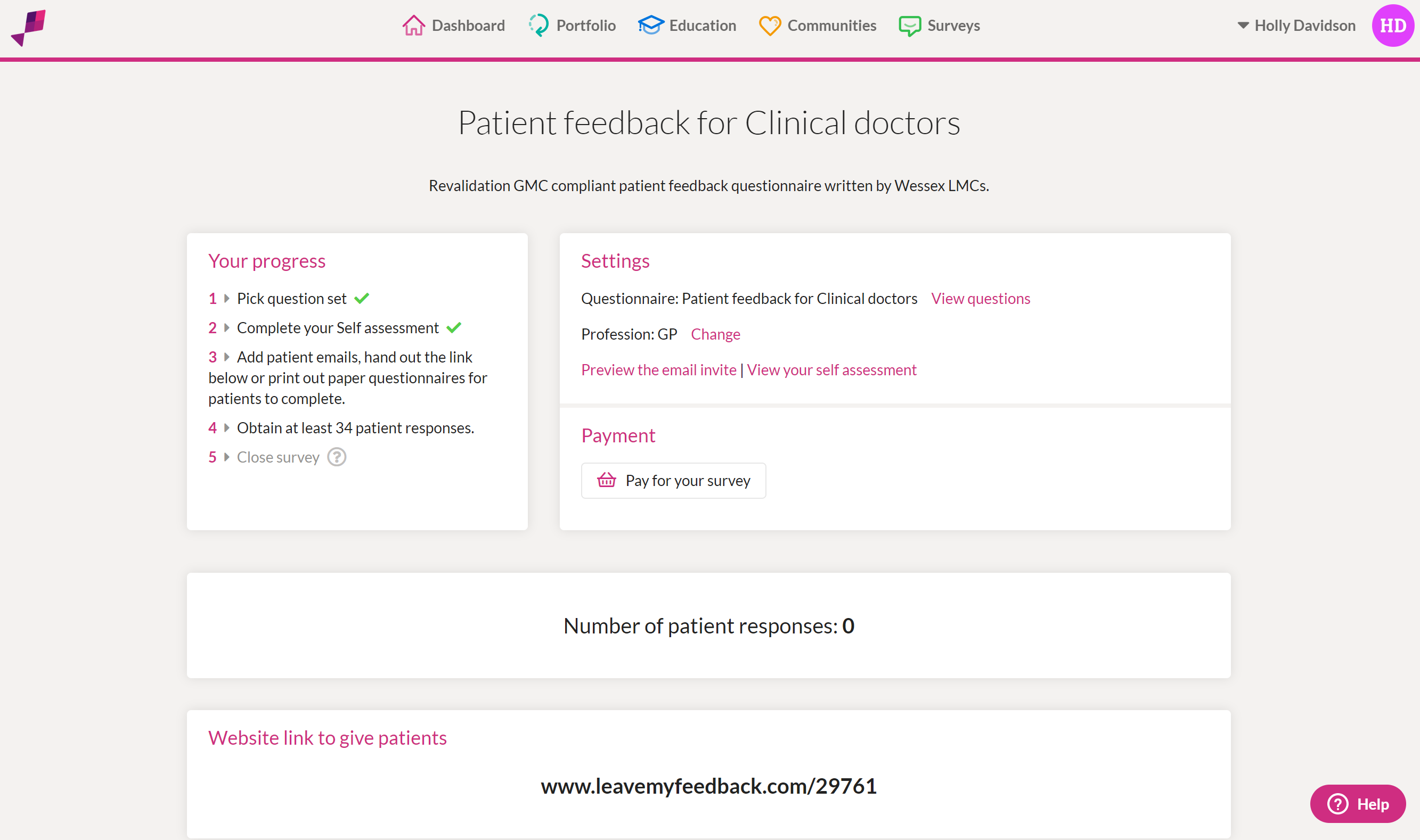 How to hand out your surveys
There are 4 different ways to hand out your surveys to your patients to fill in:
1) Print out 50 copies of the patient survey .pdf file to hand out in person
2) Email out a link to your patients asking for their feedback
3) Using SMS, text a link to your patients asking for their feedback
4) Leave a link on your website and direct patients to it
Paper forms
You have access to a personalised .pdf file that you download to your computer and print out by clicking Print out the questionnaire

Print 50 copies from the file downloaded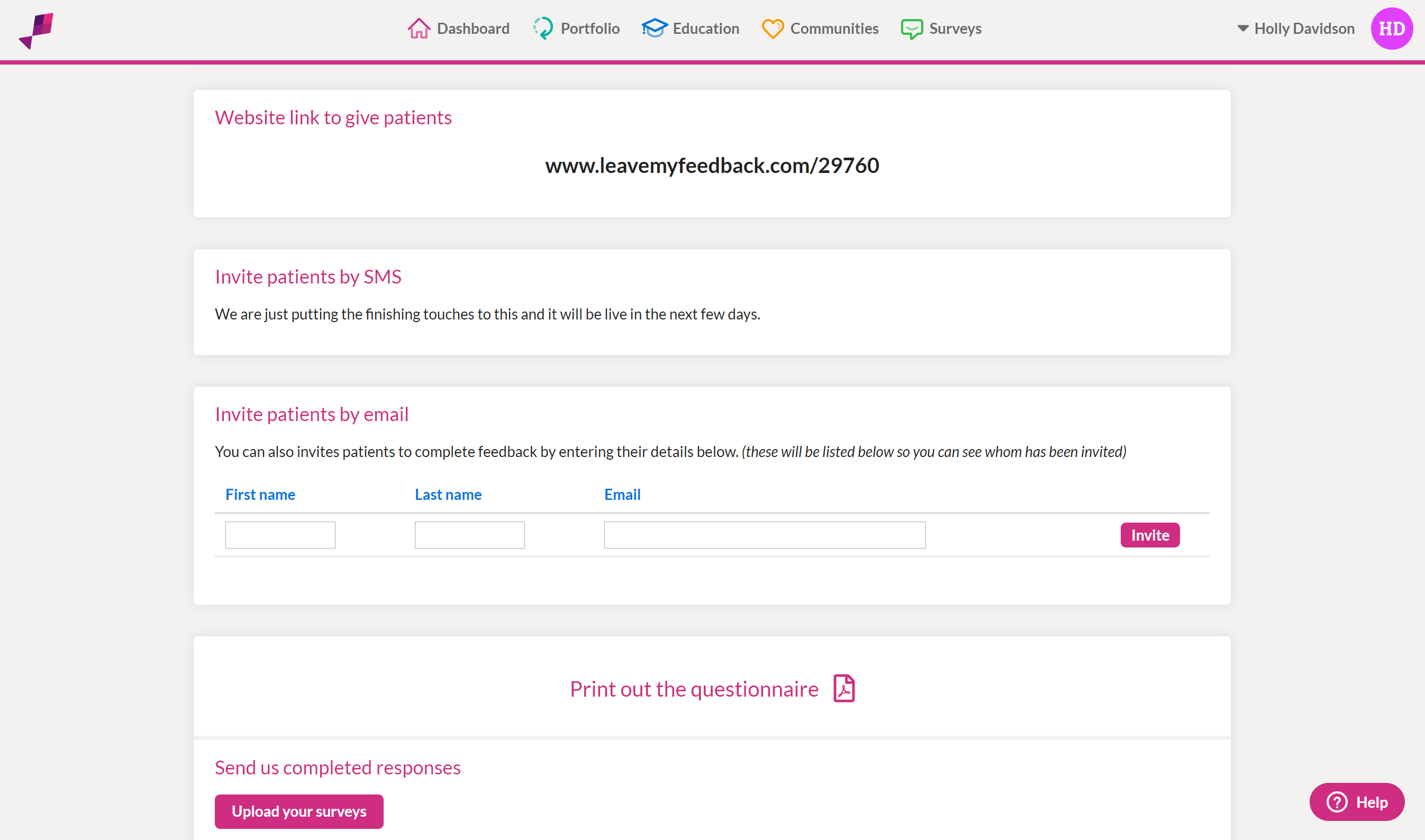 Ask the Receptionists to hand out surveys (with a pen) to patients. The GMC recommends that the survey is given to 45 consecutive patients

Completed surveys can be collected in a box in the waiting room or handed back to your Receptionists
Emailing out the surveys
Enter your patients' First name, Last name, and Email
Then click Invite
A link will be sent out to them via email
Patients details are starred out once the invite is sent in line with GDPR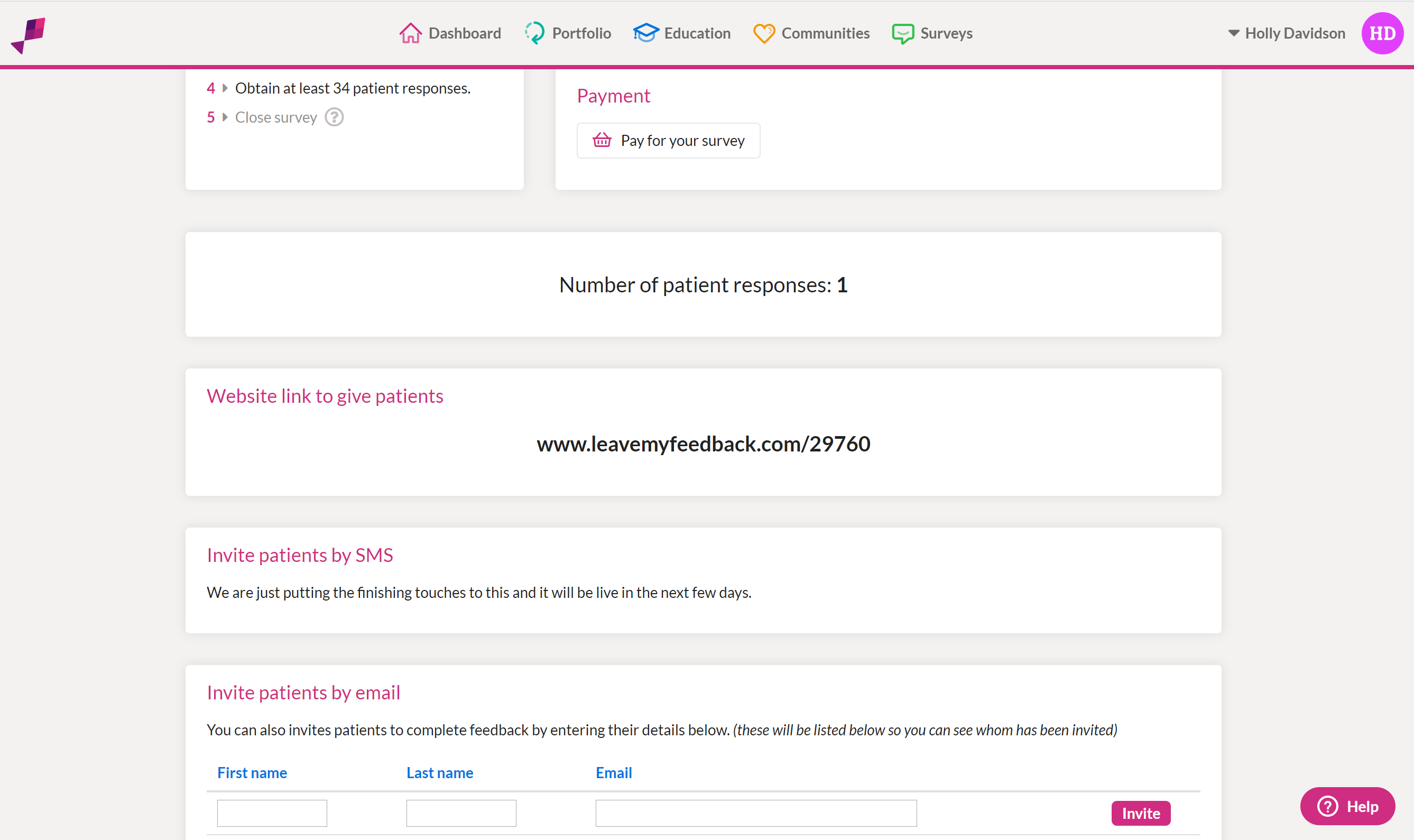 Text message invites
Enter your patients' First name, Last name, and Phone number
Then click Invite
A link will be sent out to them via SMS
Patients details are starred out once the invite is sent in line with GDPR

Embedding a link on a website
Using the website link supplied, copy and paste it to an accessible and easily located place on your website
The patient can follow the link and they will be taken directly to your survey to complete a response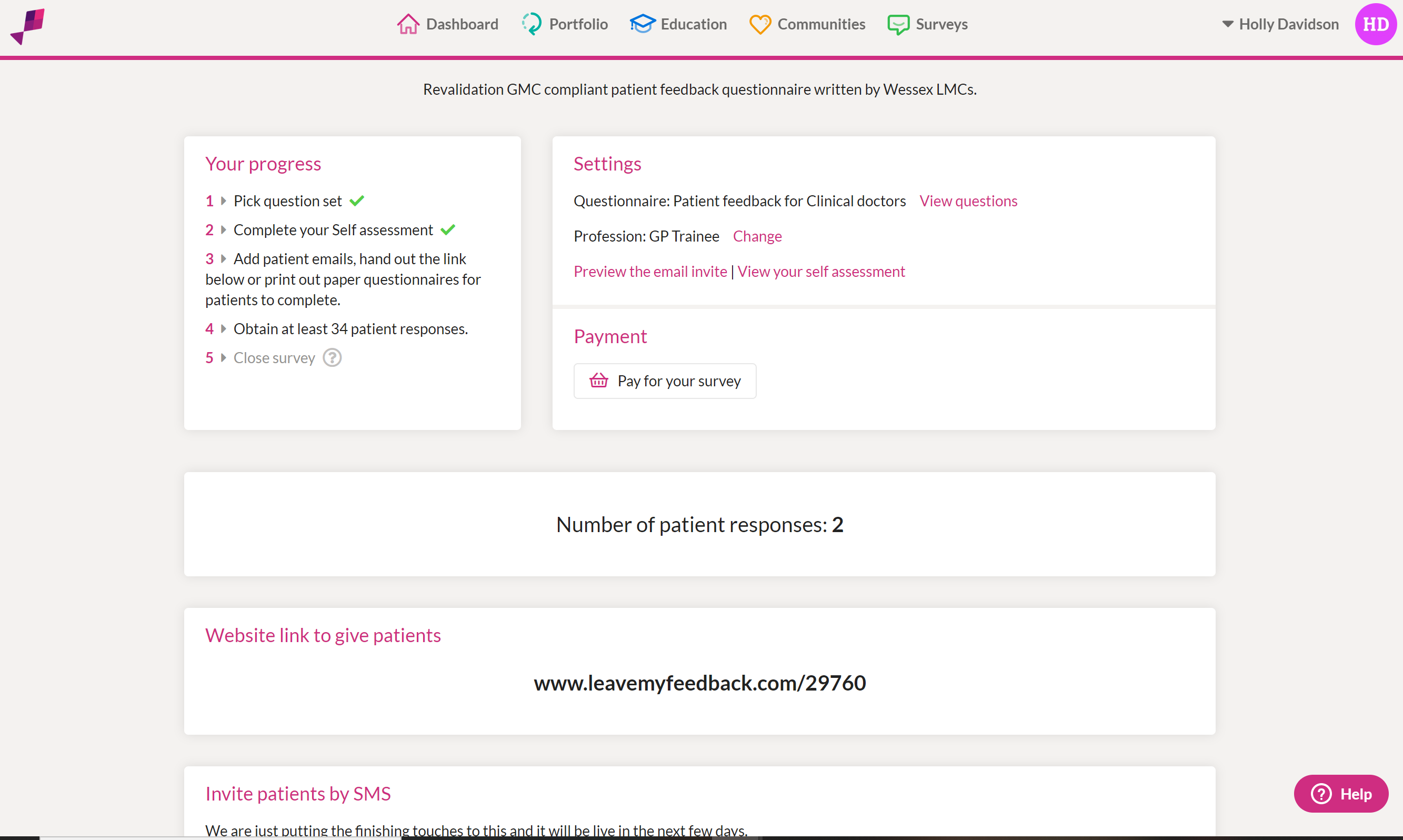 Invite a colleague to add patients details
There is a feature that allows you to add a colleague to your Survey Set up page, so they can add patient details on your behalf, and send out invites. We recommend this, as it replicates asking your admin colleagues to manage the paper responses, in line with GMC guidance.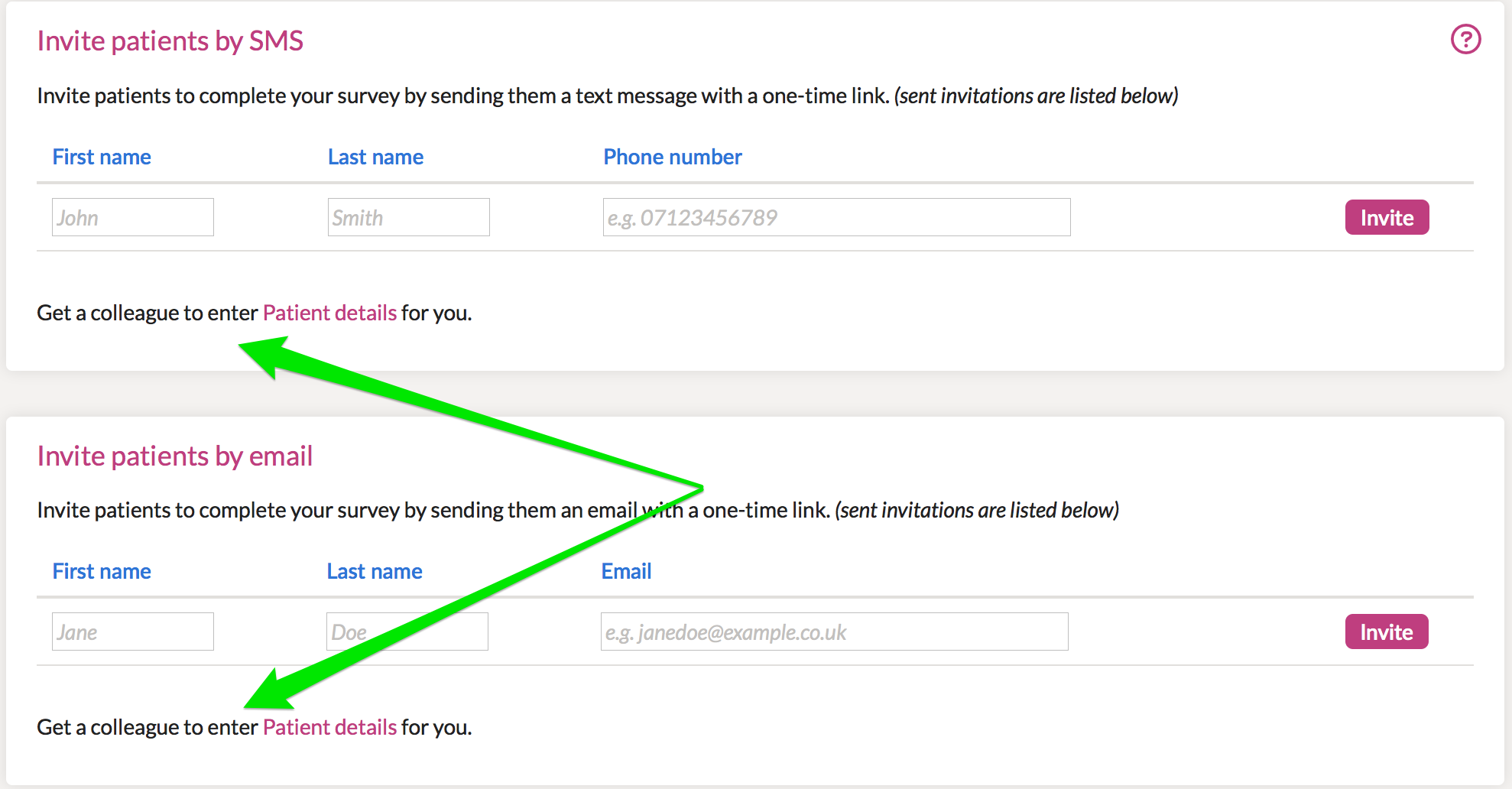 Uploading your paper responses
The most straightforward way of doing this is looking out for the pink button at the bottom of the Patient survey setup page (you will only see the Community Credits option if you are a member of a community that provides you with free surveys).
If conducted on paper you can:
Unit 5B Landford Common Industrial Estate,
New Road,
Landford,
Salisbury,
Wiltshire.
SP5 2AZ
Important: If you are posting your surveys please don't staple, paperclip, fold or put the responses in individual envelopes. We scan the responses before entry and removing staples etc can delay entry.
Or scan and upload them via your FourteenFish account.
We will then enter the data for you and the summary will be released on payment.

You will be notified once the surveys have been received (either by post or upload) and a few days later you will receive an email to say that the report is ready to view and download. You can access this through your account by clicking again on Surveys from the Dashboard and then on View Summary next to the completed survey.
If conducted electronically:
The Number of patient responses counter should increase as your patients fill out the survey.
Once it has reached 34 the option to Close my Survey will become available.
Your summary will then be ready instantaneously.
If you also need to set up a Colleague Survey please follow this link and if you have any more questions about the Patient Survey system please follow this link.
You might like to know
Any data is held securely and in accordance with the Data Protection Act 1998.
Wessex LMC developed this questionnaire and hold copyright, therefore please don't use it elsewhere without the express permission of Wessex LMC's.
Further guidance is also at: https://www.wessexlmcs.com/patientfeedbacksurveys